Before we can talk about what the Bible says about overeating, I believe we first need to understand the definition of the word overeating.
Google's definition of the word overeating is simply… eating too much!
The Webster dictionary defines overeating as… To eat to excess!
So when we eat, how do we know when we've eaten enough and how much is too much? When does it become gluttony?
These are great questions, so let's take a look at…
What The Bible Says About Overeating.
The righteous eat to their hearts' content, but the stomach of the wicked goes hungry.

Proverbs 13:25 NIV
So what does it mean to eat to your hearts' content?
I've heard it said by Aubrey Golbek like this: God's desire is not for us to just eat enough to curb our appetite. He wants us to eat until our heart's content, until our bellies are satisfied and full.
This may go against everything inside of you or it may resonate with you and help you enjoy your food just a little bit more.
The King James Version states this same verse like this:
The righteous eateth to the satisfying of his soul: But the belly of the wicked shall want.

Proverbs 13:25 KJV
Being satisfied and eating to our hearts' content does not mean we should overeat or to eat in excess; it simply means to eat until we are satisfied! That's our heart's content!
The Bible Clearly States That Overeating (Gluttony) Is A Sinful Action.
The word gluttony defined from the google dictionary is habitual greed or excess in eating.
Here are a few verses that speak to gluttony or overeating in the Bible:
They shall say to the elders, 'This son of ours is stubborn and rebellious. He will not obey us. He is a glutton and a drunkard.'

Deuteronomy 21:20
Do not join those who drink too much wine or gorge themselves on meat, for drunkards and gluttons become poor, and drowsiness clothes them in rags.

Proverbs 23:20-21
When you sit to dine with a ruler, note well what is before you and put a knife to your throat if you are given to gluttony. Do not crave his delicacies, for that food is deceptive.

Proverbs 23:1-3
A discerning son heeds instruction, but a companion of gluttons disgraces his father.

Proverbs 28:7
They ate till they were gorged— he had given them what they craved. But before they turned from what they craved, even while the food was still in their mouths, God's anger rose against them; he put to death the sturdiest among them, cutting down the young men of Israel.

Psalm 78: 29-31
It is clear in Scripture that overeating is not something that pleases God; in fact, it is quite the opposite. Gluttony is a disgrace. God's anger rose against the men of Israel. We are told not to crave the delicacies of the rich and not be given to gluttony.
We Need To Take Back The Control That Food Has Over Us
It seems pretty clear that we need to take back the control that food has over us, and yet in today's society we easily shrug this disobedience off and laugh about being overfull or stuffed to the brim or eating too much turkey! We laugh and joke about people who feel sick from eating too much. We feel we have the "right" to overeat or overindulge and everywhere we turn we are up-sizing, supersizing and overindulging rather than eating to glorify God in all we do, whether we eat or drink.
---
Do you need help taking back the control that food has over you? Kayce and I have a 5 day workshop, called the Food Freedom Workshop, which does exactly that! It helps you take back the control that food has over you. Over the course of 5 days, you are going to experience amazing transformation. You will experience freedom from food, so many non-scale victories, and on-scale victories too!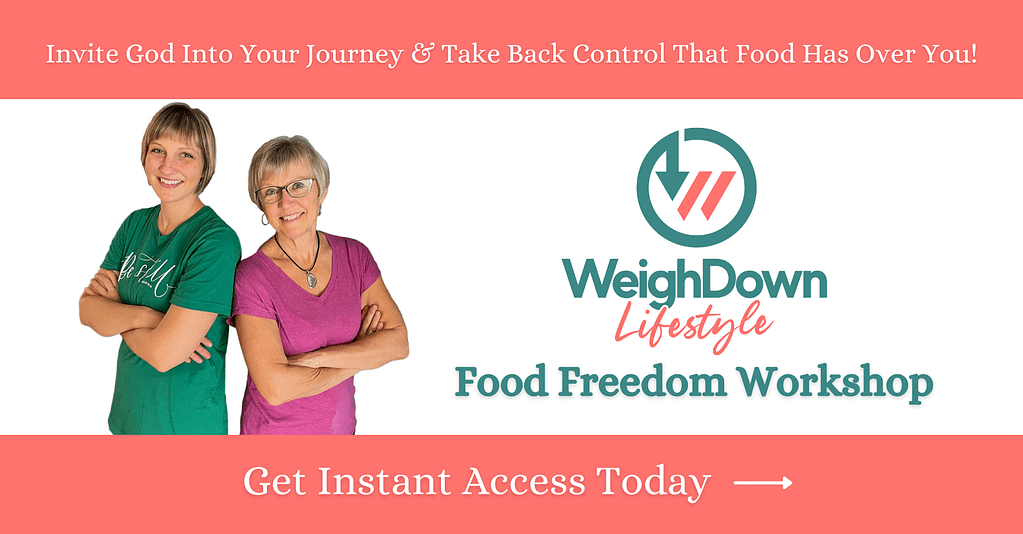 Join the Food Freedom Workshop here!
---
There are other verses that speak of self-control and discipline and I believe this also refers to controlling our overindulgence in food. The right amount of food is the issue at hand, which is a big topic because we need to eat to live, but we do not want food to become an idol or something where we live to eat. This turns into an idolatry issue where food becomes more important to us than our own obedience to God.
Bible Verses About Self-Control and Discipline
For this very reason, make every effort to add to your faith goodness; and to goodness, knowledge; and to knowledge, self-control; and to self-control, perseverance; and to perseverance, godliness; and to godliness, mutual affection; and to mutual affection, love.

2 Peter 1:5-8
Let's get back to listening to what the Bible says about overeating and begin to realize that we can glorify God in our every action, even in what we put into our mouths. God knows our heart and every thought and action and the Bible clearly says that to obey is better than sacrifice. Obedience is what God wants from us.
But Samuel replied: 'Does the Lord delight in burnt offerings and sacrifices as much as in obeying the Lord? To obey is better than sacrifice, and to heed is better than the fat of rams.'

1 Samuel 15:22
So let's go forward with the mindset of obedience in everything we do, whether we eat or drink, and know that this is pleasing to our Heavenly Father.
So whether you eat or drink or whatever you do, do it all for the glory of God.

1 Corinthians 10:31
Blessings to you!
Ruth Verbree