Have you ever let yourself wander and comb the beaches for sea glass?
---
WARNING: This particular activity can be addictive because you literally get mesmerized by finding different colors of glass in between the rocks and pebbles. It's like finding buried treasure, just like in the movies, only it is more valuable to you because you discovered it.
---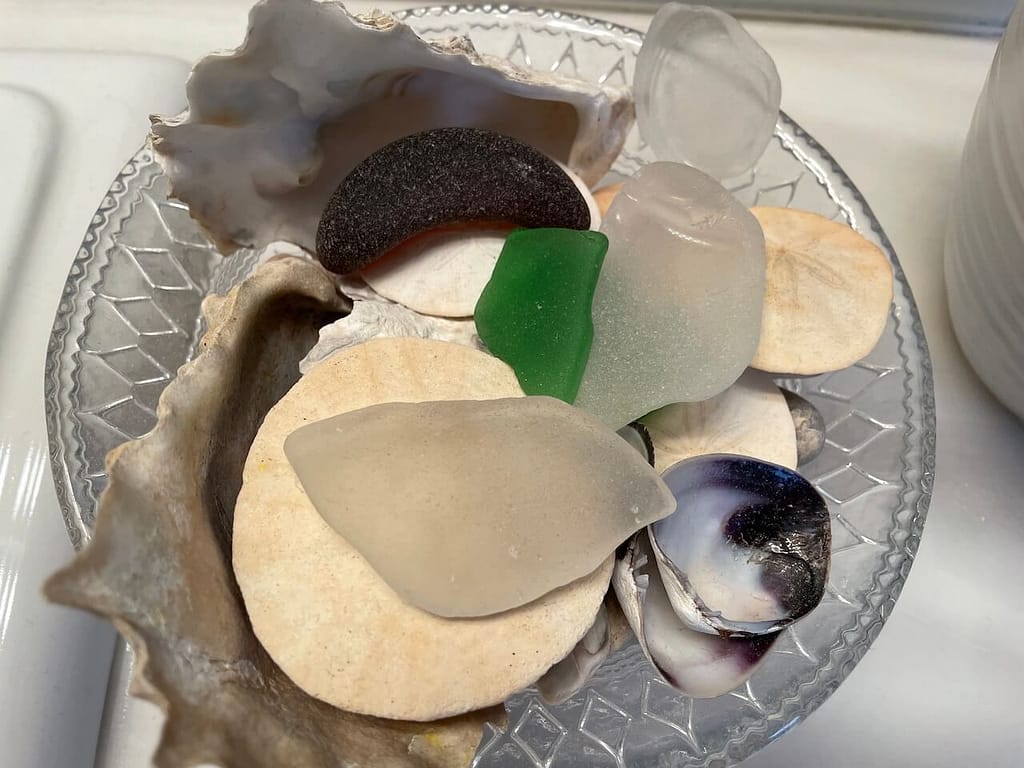 Oftentimes the glass is beautifully rounded and other times it is still quite jarred, sharp and ragged.
Sea Glass In Comparison To Our Own Lives
I love the analogy of sea glass in comparison to our own lives. Do you feel like your life is sharp and ragged in this phase of your life, or do you feel like the waves of the ocean have rounded you out?
Sea glass is quite literally pieces of glass that have been weathered through the rolling waters and the pounding of waves in the sea. As they get tossed about, beaten up from the storms and objects in the ocean, they are eventually rounded out and tossed onto the beaches where the waves and the ebb and flow of the tides have taken them.
Wikipedia says that "Sea glass" is physically and chemically weathered glass found on beaches along bodies of salt water. These weathering processes produce natural frosted glass. … It is also colloquially referred to as "drift glass" from the longshore drift process that forms the smooth edges."
Drifting From Our Origin
I find it interesting that sea glass is also referred to as drift glass. Drift glass implies it has wandered away, drifted, which it quite literally has. Whether the glass was tossed overboard or went down with a sinking warship, the glass has been adrift from its original setting, never to be the same again.
Our own lives sometimes seem like sea glass, drifting from our origin. Through the storms of life, we can either be battered and scarred and drift to end up ragged and bitter, or we are frosted and rounded out beautifully to be more loving and more Christlike. We may feel like we are drifting at times, yet God has never left our side.
Even in the rolling waters and through the storms of life God is faithful, and He is working on us to become the best version of ourselves. God never gives up on us and never gives us more than we can bear.
When you pass through the waters, I will be with you; and through the rivers, they shall not overwhelm you; when you walk through fire you shall not be burned, and the flame shall not consume you.

Isaiah 43:2 (ESV)
It's very comforting to know that the flame will not consume us, and that God walks beside us even when we feel we are drifting. He is with us through the rough waters of life. The scriptures say – "I Will Be With You!" This is a PROMISE. The words don't say that He might be with us – the words say, He WILL be with us.
How comforting these words are to me. I also love what Paul says in Romans:
And we know that for those who love God all things work together for good, for those who are called according to his purpose.

Romans 8:28 (ESV)
All Things Are Working Together For Good
The tossing of the waves around us are going to work out for our own benefit to glorify God. We can go through the storms and come out stronger and we will be a better version of ourselves. All things work together for good; this includes every bump and bruise along the way.
We can choose to let the bumps and bruises turn our hearts towards bitterness and despair or we can choose to see that they are actually working together for good, rounding us into the person God can use for His glory.
We all have experiences and challenges that shape us, but we get to choose which shape we will take on. We can choose the sharp edges that hurt us or we can choose the rounded frosting where we are like a beautiful piece of sea glass worth far more than gold.
God can use our lives so that we meet the needs of others going through similar situations. Like each piece of sea glass, no matter the color, the size, or where it is, it is being frosted with time. Just as sea glass becomes more beautiful and frosted over time, we too become more beautiful as we seek to become more Christlike. With each wave of the ocean, we learn and grow and become a little more rounded.
What experience have you gone through where you have been rounded and frosted just a little bit more? Let me know in the comments below!
Blessings,
Ruth Verbree