Weight loss is something that is so very personal and we seem too embarrassed to talk to anyone about it. We keep so many things hidden from others. For example, we step on the scale with the bathroom door LOCKED! No one is going to ever see what that number is! We seem to think we can HIDE from God. So why is it so important to talk to God about weight loss?
We are just like Adam and Eve in the garden of Eden. They were ashamed and they tried to hide from God. But…it didn't work. They couldn't hide and God knew all their secrets. So it is with us today.
We can't hide from God and we have no secrets. God knows our hearts, he knows our minds, he knows our thoughts, he sees our actions, and we cannot hide under a bush or behind a baggy shirt. Anything that we think is a secret is only a secret in our own minds, so we are fooling ourselves. We need to be talking to God about weight loss. Let's go to the word and invite God into our weight loss journey today.
30 Day Devotional For Women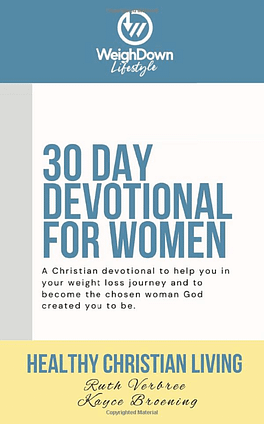 Today we are unveiling our 30-Day Devotional for Women, which is a 30-day devotional to help you in your personal weight loss journey. This 30-Day Devotional will help you become the chosen woman God created you to be. Each day you can talk to God about your weight, about your struggles, and you can take your journey to God in prayer.
God sees everything that is hidden in our dark closets and when we finally bring all of our secrets, all of our "stuff" into the light, we have a huge breakthrough. Bringing everything to God, including our weight, and surrendering our eating in secret to God, allows our burden to be lifted and we feel this huge sense of relief. Scripture tells us that His yolk is easy and His burden is light. It is such a great comfort knowing that our weight journey is finally out in the open, and we can feel safe talking to God about this.
Come to me, all you who are weary and burdened, and I will give you rest. Take my yoke upon you and learn from me, for I am gentle and humble in heart, and you will find rest for your souls. For my yoke is easy and my burden is light.

Matthew 11:28-30 (NIV)
Talking To God In Your Weight Loss Journey
When was the last time you talked to God about your weight? Have you poured out your soul to Him? Have you ever invited Him into your weight loss journey?
Jesus is loving, caring, and understanding. He has the wisdom to give us the advice we need. That is why we go to the scriptures for our blueprint for living. Jesus does not manipulate us or try to control us, like so many others try to do. Jesus gently leads and guides us, inviting us to allow Him into our lives. He is the only one who really understands what we are going through because he was fully man and fully God. He understands every aspect of our lives, including our weight loss.
You might think to yourself, Jesus doesn't understand being overweight! We don't really know if Jesus was overweight, but we do know that he understands the feeling of temptation with food, and that means he understands hunger, wanting to eat, and being tempted to indulge. So yes, Jesus does understand our weight loss journey.
Jesus understands what it means to persevere for the long haul. He was in ministry for 3 long years. Weight loss journeys can be long and difficult, as well as lonely, and we need to be prepared for a long haul. But we know that with Jesus running alongside us, we can run the race to the end and finish it well. Jesus fought the good fight and he finished the race by going to the cross. This is more than you and I will ever endure.
So Is Talking To God About Weight Loss Important? 
Yes – Absolutely! Talking to God and bringing everything into the light gives us a peace that sets us free. Freedom in Christ means throwing off the chains that bind us. His freedom gets rid of the guilt and shame that is associated with food and eating in secret, and from overindulging.
It is possible to invite God to the table and to start our day off every day by talking to God about weight loss. We can claim his promises knowing that His strength is sufficient for us each day.
We trust our 30-Day Devotional book is something that interests you, and we would encourage you to allow this little book to change your life. Talk to God about your weight, your secrets, and about your struggles. He cares; He knows, and He loves you unconditionally.
We want to help you learn to let go of the guilt and shame that so many women struggle with. We want you to gain back your confidence so that you can live out the purpose that God desires for you. We want you to improve the quality of your life, reclaim your health and live a life without regrets.
May this little 30-Day Devotional be a guide for you as you begin talking to God about weight loss and living out your best life. 
Blessings,
Ruth Verbree