How do we stop believing all the lies that fill our minds everyday? As believers we are told we should take our thoughts captive, but what does this mean and how do we do that?
Our minds are a big part of healthy Christian living. 2 Corinthians 10:5 says:
We demolish arguments and every pretension that sets itself up against the knowledge of God, and we take captive every thought to make it obedient to Christ.

2 Corinthians 10:5 (NIV)
Did you know that you have between 50,000 – 80,000 thoughts running through your mind every single day? And what's even more mind-boggling is that with those 50-80,000 thoughts coursing through your mind, approximately 70-80% of them are negative! That thought right there is a bit overwhelming and downright frightening. That's a lot of negativity going into your mind. I'm going to make a bold statement now:
Thoughts That Bring Us Down
We think thoughts or lies that bring us down like:
I Can Never Lose Weight!
I'm so fat and ugly!
I'll never be good enough!
I'm just such a failure!
I can't even eat right for one day, so I may as well ditch it all and just get fatter!
I'm such a Loser!
I'm not worthy of love!
These negative thoughts, my friend, are Lies from the enemy and we need to take these thoughts captive. The devil wants to make us feel defeated and when these negative thoughts are running through our heads day in and day out, it's no wonder we feel like a failure. BUT… God knows we are not failures.
Take Our Thoughts Captive
We are loved and commanded to take these thoughts captive for a reason!
The word "Captive" means imprisoning or confining!!!
We may not be able to control the first thought that comes into our minds, but we can certainly take the second thought captive and confine it. What does this look like?
I like to visualize it like this. It's a lightning bolt thought that enters your mind. You grab hold of that thought tightly and stuff that thought into a box. You then place the lid on the box and you nail the lid down securely. It's confined and will not be able to get out. Then you can put the box high up on a shelf way out of reach, knowing that lie is imprisoned for life.
Once we have confined the lie, then we must immediately replace the lie with a truth from God's word. Claiming the promises will demolish the enemy's stronghold over us and we can be released from the chains that are keeping us in bondage. We will finally be free of the negativity and the power of the lies that keep us bound up.
Philippians 4:8 says,
Finally, brethren, whatsoever things are true, whatsoever things are honest, whatsoever things are just, whatsoever things are pure, whatsoever things are lovely, whatsoever things are of good report; if there be any virtue, and if there be any praise, think on these things.

Philippians 4:8 (KJ21)
Examples Of The Lies We Need To Take Captive
An example of a negative thought may be similar to this: "I am not worthy of love." Contrary to the lie, the Bible says that God demonstrated His love for us when He sent His Son, Jesus. God loves us so much he gave his son to die, so we are worthy of His love. God loves us just the way we are today – just as you are now! He will love you just as much tomorrow, not more, and just as much when you have shed the weight as He does now being overweight.
Here's another lie you might be thinking: "I am such a failure." But the Bible says:
My health may fail, and my spirit may grow weak, but God remains the strength of my heart; he is mine forever.

Psalm 73:26 (NLT)
Philippians 3:13-14 says:
No, dear brothers and sisters, I have not achieved it, but I focus on this one thing: Forgetting the past and looking forward to what lies ahead, I press on to reach the end of the race and receive the heavenly prize for which God, through Christ Jesus, is calling us.

Philippians 3:13-14 (NLT)
This verse says we get a prize when we press on. That's not failing! When we take our thoughts captive and keep them confined, we can claim the truths of God's word and we can change our thoughts to those that are pure, good, noble, and lovely. We can ditch the defeatist attitude and win the race.
Take Our Thoughts Captive In Weight Loss
This works in our weight loss journey as well. Let's remember that we can claim God's power to work in us and through us, with our thoughts and our actions.
Philippians 4:13 says I can do all things with Christ who strengthens me. Usually this is spoken about in other facets of our lives, but this includes weight loss too. So when the devil feeds you the lie – "I'll never lose weight!" – take that thought captive immediately (imprison and confine it) and claim the promise:
I encourage you to begin to trust the wisdom the Bible gives us today. If you have not taken the lies captive before, start today. If you would like more information on learning how to love yourself and treat your body like a temple so that you can shed your unwanted weight, I would invite you to look into our Food Freedom Workshop where our mission is to help you see that your identity is in Christ and not in your weight.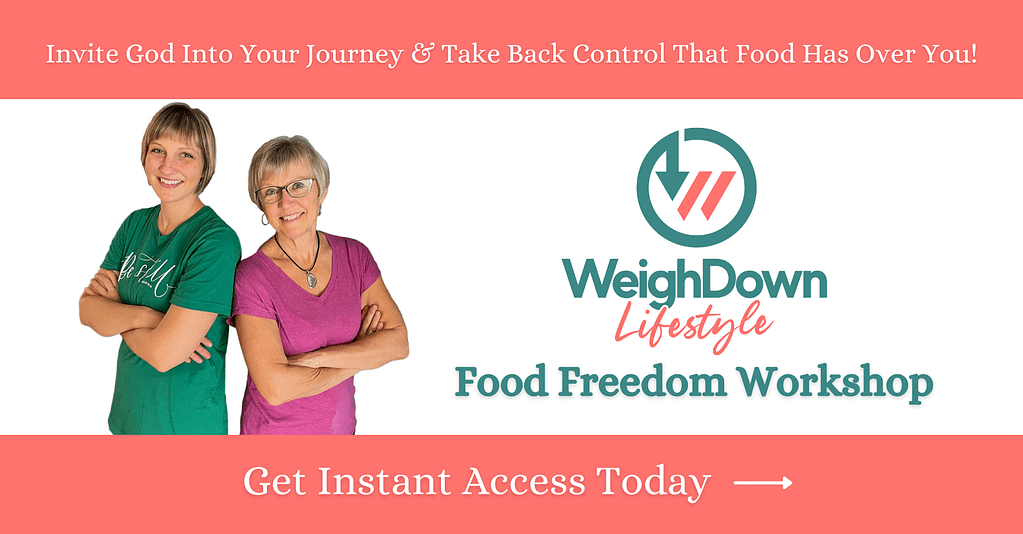 Remember that you are a Woman Chosen For Greatness, and I BELIEVE in You.
Ruth Verbree
P.S. If you'd rather watch video, here is my video on how to take our thoughts captive! Make sure to subscribe to our Youtube Channel!