Do you feel guilty when you take care of yourself? Do you feel selfish if you do something special just for you? These guilty and selfish thoughts need to stop! We need to take care of ourselves, and love ourselves, so that we can in-turn love others! That's why we're going to talk about self love and some self love exercises we can do.
Self Love In The Bible
In the book of Mark, it says…
We so often forget about the last part of this verse. Scripture tells us to love your neighbor like yourself – this means that we need to take care of ourselves in the same way we would a neighbor.
Your neighbor could be the person living right next door to you, or it could be a close friend, or even someone at the other end of town. Each person you meet could be your neighbor and we are commanded to love them. This is the greatest commandment, so it's not an option!
When we understand that loving our neighbor is not an option (it's a command), this changes our perspective of how we want to live our life. Love has a broad scope of definitions, but self-love is very specific.
With physical fitness there are steps we can take to improve our level of physical ability. It's the same with self-love as there are exercises and steps we can take to nurture our own level of self-love.
Many people, and women in particular, find it difficult to truly love themselves. In order to live a happy, healthy life, it is very important to take time for oneself, to nurture the body, the mind and the soul. When we do this and learn how to implement self-love exercises, it becomes easier to love who God created us to be: unique, confident, and living our life with passion.
I love what Jeffrey Borenstein, M.D. says about self-love.
Self-love is a state of appreciation for oneself that grows from actions that support our physical, psychological and spiritual growth. Self-love means having a high regard for your own well-being and happiness. Self-love means taking care of your own needs and not sacrificing your well-being to please others.

Jeffrey Borenstein, M.D.
So…
How Do We Begin To Understand Self Love?
Let's look to scripture first to see what Jesus says about Love and then we may have a better glimpse into knowing how to practice self-love exercises.
Love is patient, love is kind. It does not envy, it does not boast, it is not proud. It does not dishonor others, it is not self-seeking, it is not easily angered, it keeps no record of wrongs. Love does not delight in evil but rejoices with the truth. It always protects, always trusts, always hopes, always perseveres.

1 Corinthians 13:4-7
Isn't it interesting that the first characteristic on the list is patience? It's time we give ourselves a bit of patience, show ourselves some kindness and forgive ourselves for not living up to our own standard. We are often our own worst enemy.
Love is kind.
When is the last time you have been kind to yourself? We encourage and treat those around us with kindness, but we run ourselves down. We motivate others, but we deflate ourselves when we feel we haven't met our own expectations.
These negative actions we place on ourselves are not what anyone would call self-love. We have patience with our friends and neighbors, yet we give no leeway to ourselves. We are kind and compassionate with our spouses, neighbors and friends, yet we don't treat ourselves with the same actions.
So to begin with self love exercises, start by being kind and compassionate to yourself, just like you would to your best friend.
Practicing Self Love
Here is a small list that can help you get started on your path to practicing Self-Love.
Make a list of 5 things you would do for your best friend to show him/her how much you care about him/her. Now look at that list and decide which one you would act on first. Now implement that act of kindness on yourself!
Continue to practice these small acts of kindness on yourself daily. Keep your list going.
Become aware of how you feel when you treat yourself with acts of love and journal your thoughts. Journaling is an exercise in practicing self-love.
Self-love exercises include physical needs, like good nutrition. Allow yourself some healthy options to replenish your body of nutrients that you may be lacking.
Self-love exercises include emotional needs like being out in nature. Allow yourself the time and space to see the beauty and rest in God's creation. Feel the wind on your face. Meditate on God's word and allow nature to help meet your emotional needs.
Self-love exercise includes physical fitness. Moving your body and getting your heart pumping is a way of loving yourself and taking care of you. Making time for yourself is loving your body and keeping fit and healthy.
Self-love includes taking care of basic needs such as getting enough sleep or drinking enough water. These can be exercises in self-love.
Self-love means creating healthy habits for yourself, so choose one or two habits you want to implement and begin to incorporate them into your life today. A healthy habit may be as simple as sitting and reading for even 10 minutes a day. This healthy habit can help you learn and grow and develop a healthy mindset.
Self-love exercises include enjoying and maintaining healthy relationships and taking the time to meet with friends. Schedule a coffee date with a friend and engage in a meaningful conversation that motivates and inspires you to create a better version of yourself.
Finally, be true to yourself. What is your purpose and what motivates you and gets you excited about life? To know yourself is to love yourself…this takes time so give yourself the time you need.
Self Love And Food Freedom
A huge component in loving ourselves is to take care of our physical bodies. Kayce and I always say to "treat your body like a temple, not a trash can!"
This can be extremely tough, especially when we have lost our control over food. That is why after helping thousands of women with their weight loss transformation and with learning to love themselves again, Kayce and I created the Food Freedom Workshop. It teaches you how to gain back control that food has over you. You will learn how to make healthy choices, how to treat your body like a temple, and so much more. Over the course of 5 days, you will experience amazing transformation of learning how to love yourself again!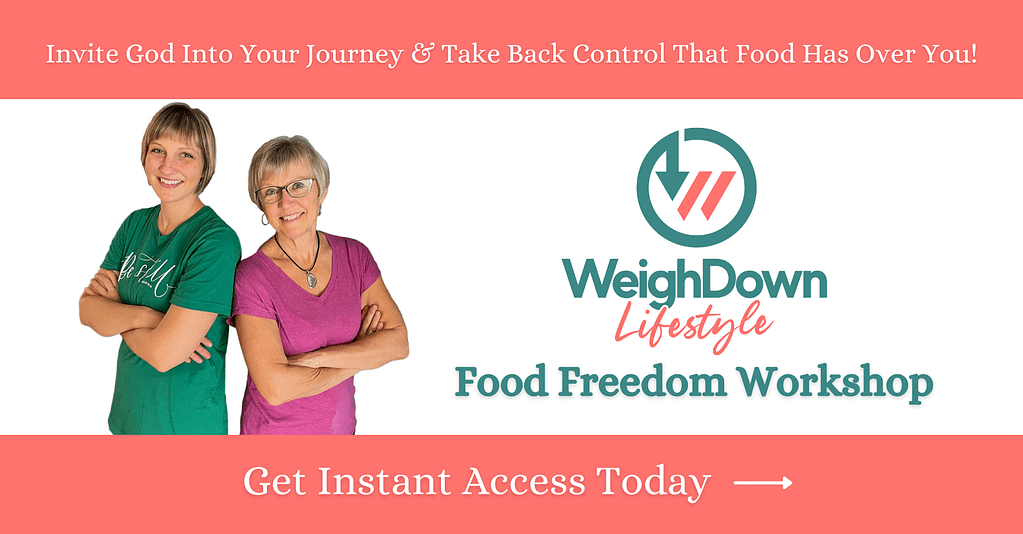 Join our Food Freedom Workshop Today!
Start self-love exercises today. Remember to Love yourself like the bible commands you to.
AND…remember love always protects, always trusts, always hopes, and always perseveres.
You are Loved!
Ruth Verbree