Books
Life Begins At 60! shows women that life is not over and that they can start living a happy, healthy life that is full of purpose once again. Ruth Verbree shows women that taking care of themselves is key and part of the process is to be a healthy weight as well. Life Begins At 60! shares personal stories as well as 3rd party stories of women who have gone from feeling blah to living a blissful life once again.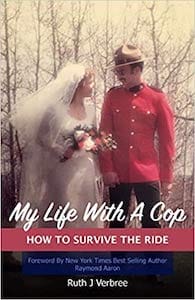 My Life With A Cop is all about the author's ride through the years of being married to a cop. In this memoir, author Ruth J. Verbree shares some of the highs and lows she endured as the spouse of a First Responder, including uprooting the family for work transfers, and living with a husband suffering from PTSD. Her real life stories of overcoming challenges and celebrating victories will be sure to resonate with you on many levels. Her perspective on life and practical tips on How to Survive the Ride will give hope for those who also walk this journey.
Renew Your Mind, Maximize Your Potential is all about how to transform your life, and change your outlook so that you can unlock your potential to achieve success.Through a unique series of experiences, Ruth has cracked the code on maximizing her human potential and she wants to share that code with you. Read this book and watch your days get brighter.
The Land Beyond The Yellow Spout is the perfect book for your (grand)children! Lemonbush is a beautiful, imaginative character who snuggles up with her stuffy, Sugar, and together they are excited for their next adventure within the yellow teapot. Written in a fun and carefree style, your kids or grandkids are sure to love this new fantasy teapot land where the fun never ends, yet they learn to see how important their family really is.
In this memoir, author Robert J. Verbree shares both humorous and tragic real life police stories from his 35 years of serving as a Peace Officer. His perspective on life and his deep faith in God is what helped him get through the challenges he faced over his years of service. Verbree talks openly about his journey with PTSD and how he struggled to crawl out from the darkness that overtook him. This true to life struggle gives readers an inside look on what First Responders must face in their careers with life and death issues. His take on critical thinking is enlightening and the promise gives hope for a brighter future.
Foods & Supplements
If you can't find any sprouted spelt flour in your local grocery store, you can get it on Amazon. We recommend Anita's Sprouted Spelt Flour.
If you can't find any sprouted wraps in your local grocery store, you can get these on Amazon. We recommend Angelic Sprouted Wraps
We have tried and tested lots of different protein powders to add to our drinks and smoothies, and we recommend Asili Peak Protein!