Wow! My new book, Life Begins At 60! comes out everywhere on August 10th, 2021. I am so excited. This is the 5th book I've written, and I think it's my best one yet.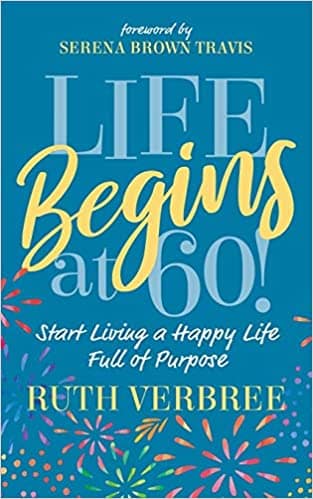 And although the title of my book says "60," that doesn't mean that you have to be 60 years old to enjoy the book. This book is for women of all ages. My journey to living my best life truly began when I was 60 years old, so no matter what age you are, this book can teach you how to make the next years of your life the best ones yet!
I wrote the book with one vision in mind… to help women realize their full potential and start living a happy life that is full of purpose.
Are you feeling dissatisfied with life? Life Begins At 60! shows women that life is not over and that they can start living a happy, healthy life that is full of purpose once again. Ruth Verbree shows women that taking care of themselves is key and part of the process is to be a healthy weight as well. Life Begins At 60! shares personal stories as well as 3rd party stories of women who have gone from feeling blah to living a blissful life once again.
Throughout the book, I dive into real issues that have come up in my life, teach you how I overcame them, and then share tips and strategies with you about how you can implement these ideas into your own life. Seriously, I hold nothing back. Things get spicy at some points, and I know you are going to love it!
If you are ready to start your life transformation and start living your life on purpose, then my book Life Begins At 60! is for you!
Starting August 10th, 2021, Life Begins At 60! will be available everywhere, including Amazon, Barnes & Noble, and other book suppliers!
I Have One Request For You!
If you do order a copy of my book, would you be willing to give me a 5 star review? This helps me out SO SO much! I would be truly grateful! Thank you!
Lastly, let me know in the comments below what your favorite chapter or section of the book was!