If you struggle with confidence, I'm here to tell you that you are not alone in this struggle. It seems that many people (and women in particular) struggle with believing they are enough or have what it takes, to simply trust in their own abilities enough to step out in confidence. Let's go over how to gain confidence in yourself, even when you are struggling with confidence.
Having confidence in yourself allows you to do more and be more because you have the assurance that the skills and qualities you possess will help you accomplish what you set out to do. You trust yourself enough to know that you can do it, and then you actually do it.
Are You Holding Back Because You Are Lacking In Confidence?
What is one area in your life right now where you need to work on building your confidence? Is it in your job or your home life? Do you have to give a speech or start a new job? Do you need to face your fears or step out of your comfort level? Is God calling you to do something that you don't feel qualified to do?
Remember that when God calls us to do something, big or little, we will only be fulfilled and satisfied once we do what we are called to do. We are here for a reason and that is to honor and glorify our Father in heaven. He chose us for greatness, and that probably means stepping out with confidence into something for which we feel unqualified to do. God wants to use us and be there for us because when we are weak, then He is strong. We are more than conquerors – as it says in Romans 8:37:
No, in all these things we are more than conquerors through him who loved us.

Romans 8:37
Samuel was called 3 times before he said "Speak Lord, for your servant is listening!" Have you been called to do something but you are holding back because you are lacking in confidence?
Are you lacking in confidence? Use these 38 Amazing Bible Verses About Confidence to gain confidence in yourself!
God Is Calling You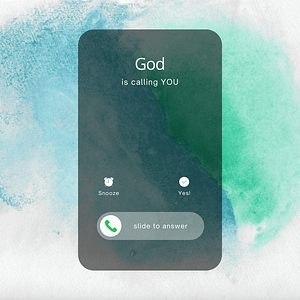 Sometimes, when we know we have been called by God to do something, we must simply just take the leap of faith. We need to jump off the diving board and trust that the water is in the pool. If we fall down, we know that God will lift us up again, because we know that his plans are the best plans. 
"For I know the plans I have for you," declares the Lord, "plans to prosper you and not to harm you, plans to give you hope and a future."  

Jeremiah 29:11 NIV
Can you imagine a supernatural force so great that your fears and lack of confidence were stripped from your body; the shackles were completely released by the power of Christ? That's exactly what can happen when we put our total trust in God and when we finally rely on the power of His promises. He wants to prosper us! Wow!
When is the last time you have faced your giants with confidence? We all have giants in our lives that we are afraid to face, but we know that we can conquer them when God is in the battle with us.
Supernatural Confidence From God
Most of us know about the Bible story of David and Goliath and how David took 5 little stones and faced the enemy with a supernatural confidence that can only come from God. This giant was not some little fight. For anyone looking in on this story from an outside perspective, all would bet on the Giant winning and that it would be no match for him. 
Yet God, in his supernatural power, allowed David to step out with confidence, knowing and believing that with God All things are possible. David knew beyond a shadow of a doubt that God was going to win the battle for him that day. He was weak and yet with God he was confident! 
Even though we can be confident that God is with us and he can provide us with supernatural confidence, sometimes life can still be tough. If you are feeling like this, here's some Ecouragement For Today!
Take a listen to this song and know that with God in the journey, you can face your giants and have the confidence to step out and move forward to live out the best version of yourself.
Go out in confidence knowing that God cares and is in the battle with us.
How To Gain Confidence In Yourself With Food Freedom
One of our main teaching points at the Weigh Down Lifestyle is to learn how to love yourself again. Our first step in the journey is to find freedom with food.
Having a healthy relationship with food can be a total game-changer. We cover topics like "choosing vs. cheating" and emotional eating, where you deal with your emotions by putting food in your body.
That can potentially be very harmful, and I have good news for you! There is a better way!
You can learn it all, including how to gain confidence in yourself with our Food Freedom Workshop!
Blessings to you, and remember…
You are a woman chosen for greatness,
Ruth Verbree