One of the amazing things about the Weigh Down Lifestyle is that we don't tell you to eliminate food groups. That's one of the reasons why diets don't work! However, we do teach you to replace different foods with healthier alternatives, and one of the biggest changes we make is using sprouted grains. The list of health benefits of sprouted grains is a long one, so let's cover some of the main ones. Hopefully, you'll see the amazing benefits of sprouted grains for you to make a change to sprouted grains in your life!
What are sprouted grains?
Grains are actually the seeds of grasses like wheat or oat. The "sprouting" happens when these seeds are allowed to germinate (meaning to sprout, to bud, to begin to vegetate). During this process, the seeds become young plants, or seedlings, which are rich in nutrition.
Once the seeds become seedlings, they can be used to create a variety of products, such as bread, wraps, and muffins. In the Weigh Down Lifestyle, we use sprouted bread and sprouted wraps for lots of our meals… And they taste DELICIOUS!
What are the health benefits of sprouted grains?
Like I said above, sprouted grains have some amazing health benefits. Ruth and I believe that introducing sprouted grains to women in our community is one of the main reasons why our program is so effective. First of all, sprouted grains taste great – I honestly like the sprouted bread and sprouted wraps better than regular bread now. Here are some of the amazing health benefits of sprouted grains:
Sprouted Grains are lower on the glycemic index
If you haven't heard of it before, the glycemic index is a system that ranks food on a scale from 1 to 100 based on their effect on blood-sugar levels. So basically, the higher sugar content in food, the higher the number is on the glycemic index. On the Diabetes Canada website, it shares 3 categories on the Glycemic Index:
Low Glycemic Index (55 or less)
Medium Glycemic Index (56 – 69)
High Glycemic Index (70 or more)
Reading on Healthline, "one study found that sprouted grain bread had the lowest available carbs, with 34 grams in a 4-ounce serving, compared to 44 grams in a 12-grain bread.
What's more, due to its lower carb and higher fiber content, sprouted grain bread had the lowest glycemic index, compared to 11-grain, 12-grain, sourdough or white bread."
In the Weigh Down Lifestyle, we have had multiple women actually go off of their diabetic medication because they have learned to fuel their bodies with the right nutritious food that their bodies need. Introducing sprouted grains into their diets was one of the important aspects for this. Isn't that amazing!?
Sprouted grains have better nutritional value
Lots of the processed bread that you find in grocery stores is made from processed grains, rather than whole grains. Simply put, processed grains remove many of the nutrient-dense parts of the grain. See the picture below: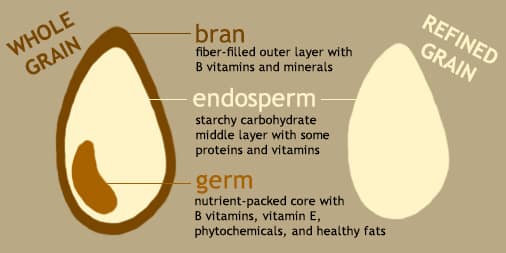 As you see, when we consume whole grains, we are getting all of the nutrients from the bran, the endosperm, and the germ. These are rich in vitamins and minerals and antioxidants!
The Weigh Down Lifestyle is all about fueling your body with the right fuel. We often talk about how if you drive a gas-powered car, then you can't be putting diesel fuel into it. NO! It requires the right type of fuel. Your body is the exact same – it requires healthy, wholesome, nutritious foods.
Lower blood pressure
Largely due to the extra vitamins, minerals, and antioxidants found in them, sprouted grains have been known to help reduce high blood pressure!
Better cholesterol levels
The Bran, the outer layer of the grain, is rich in high-quality fiber. Consuming high-quality fibers in your diet has been known to reduce heart disease risks as well as make your cholesterol levels better!
Increased liver function
Once again, the antioxidants and anti-inflammatory nutrients found in sprouted grains help make your liver work better.
Lower in gluten
Sprouted grains are known to have less gluten content than processed grains. As we are seeing a lot these days, gluten intolerance has become wide-spread so decreasing our gluten intake can be a very healthy choice.
From Healthline, sprouting has been shown to decrease gluten content in wheat by up to 47% which may make sprouted grains easier to tolerate.
With so many now having a gluten intolerance, reducing the amount of gluten in the foods you eat is a great choice. We have also had women in our community share that they have had much better digestion, bowel movements, and their acid-reflux has improved significantly.
Easier to digest
The sprouting process actually allows the grains to ferment slightly, which breaks down the starch in the grains. Not to get too specific, but the enzymes in the grains increase during the sprouting process, which help break down the starch.
There's another thing called Lectins, which are part of a plant's defense mechanism. Lectins are known to affect digestibility, and they have been linked to leaky gut and chronic inflammation in the body.
However, as the sprouting process takes place, the plant actually metabolizes the lectins, which reduces them! This means that the sprouting process increases the healthy enzymes and lowers the lectins, making sprouted grains much easier to digest!
Adding Sprouted Grains to your life is easy!
This is the best part. Women in our community have had a great time adding sprouted grains to their life. Sprouted bread and sprouted wraps taste great, they aren't that expensive, and they are much healthier.
Are you looking for an easy way to add sprouted grains to your life? Check our our bread recipe: The Best Whole Grain Sprouted Spelt Sourdough Bread Recipe (No Starter Required)
Usually, women in our community don't have trouble finding sprouted grains. Where I live, there are some grocery stores that carry a variety of sprouted products (Costco usually has some). If I am looking for specific types of sprouted grains (hamburger buns, hot dog buns, bagels, etc) then they can be tricky to find. If I'm looking for something specific, then I usually go to the health food store in town and they generally have what I'm looking for.
My favorite brand to buy is Silver Hills. If you can't seem to find any sprouted grains, then you can always order on Amazon. Here are my favorite ones:
Sprouted Grains are a great choice!
Sprouted grains are a staple in my household, and I tell everyone in the Weigh Down Lifestyle community to add sprouted grains to their lifestyle. They have lots of health benefits, they taste great, and they might even help you lose weight! Tell me below… have you tried sprouted grains yet? What did you think?