Why is it so important to speak or declare gratitude affirmations to God?
Gratitude Affirmations are one of the most important things you can do for your own happiness. Did you know that speaking gratitude affirmations boosts your mood and gives your brain a hit of dopamine?
A Little Gratitude Will Go A Long Way
The Wharton Healthcare Alumni says that "A Shot of Dopamine – whether expressing gratitude for what's good in life or showing gratitude to someone who has helped us at work, neural circuitry in our brain (stem) releases dopamine. Dopamine makes us feel good! … It triggers positive emotions, we feel optimistic, and it fosters camaraderie."
It's totally amazing that a little gratitude will go a long way, both in happiness and in your health. It's like fireworks going on in your brain – our neuropathways get lit up! This gives us a feeling of positivity that can help propel us forward, even if it's a little bit at a time.
I love the analogy of dominoes. As a child, I used to play with dominoes and watch them move in a very organized fashion. It takes a long time to set them all up, and yet a simple push and wow – watch the transformation. Once you give that first domino a little tap, they begin to fall forward and they just don't stop. It's like a train; it keeps on chugging. It's so much fun to see how the dominoes twist and turn along their route, but they just keep falling. This type of falling is a very good thing – they are falling forwards!!!
The Gratitude Domino Effect
This is how gratitude affirmations can transform your life. When you continue to write and speak gratitude affirmations every day, you will be amazed at how this changes your life. With each passing day you will find more things to be grateful for, and it will get easier to believe them with each passing day. You will continue to fall forwards in your happiness and in seeing the blessings happening all around you in your life.
Not only will you feel happier, but you will get more accomplished. That hit of dopamine will lift your mood and that will help you reach your goals quicker. Why, you say? Because it's also been noted from the Wharton Healthcare Alumni that "dopamine has been linked to intrinsic motivation in goal accomplishment, whether academic, personal, or professional."
So whether you want to work on personal goals, relationship goals, emotional goals, weight loss goals, career goals, or to just be a happier version of yourself, you must start writing, speaking and declaring gratitude affirmations.
Read my other post about gratitude affirmations here: 30 Gratitude Affirmations That Can Change Your Life!
Choose A Few Gratitude Affirmations
Sometimes it's hard to do the little things that seem too good to be true or may even seem ridiculous to you at first. But trust the process…it's a proven psychological technique. You have nothing to lose, except the rewards.
So to begin with gratitude affirmations, choose a few that you know you will actually speak often. Begin by writing them down and then speak them everyday. You might feel a little silly at first, but trust me…the more you do this, the greater the transformation you will see in yourself.
Some Of My Favorite Gratitude Affirmations
Here are some of my favorite gratitude affirmations that I like to write down and speak to myself. You can use some of these or make up your own, but just do it!
We also have a Weigh Down Lifestyle Pinterest Page, where we post lots of different content daily! Check it out here: Weigh Down Lifestyle Pinterest Page!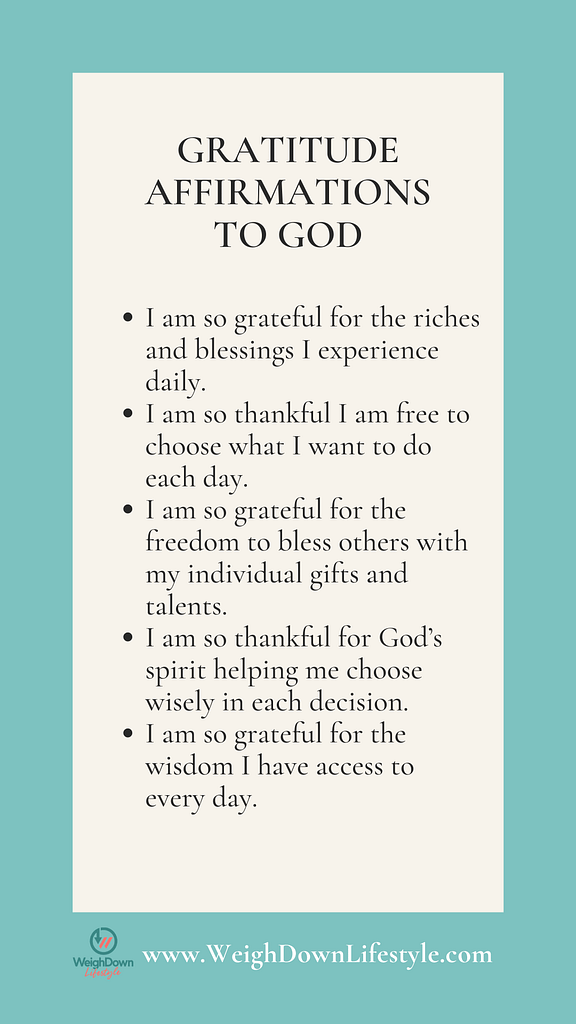 I am so thankful that I am a spiritual being and I was created in the image of God.
I am so grateful that I am a Child of the King and I belong to Jesus.
I am so thankful that I am an Overcomer and I have the power within me to be victorious.
I am so grateful that I can forgive others and live my life following Jesus.
I am so thankful I can live out my passion helping and serving others to the best of my ability.
I am so grateful for the riches and blessings I experience daily.
I am so thankful I am free to choose what I want to do each day.
I am so grateful for the freedom to bless others with my individual gifts and talents.
I am so thankful for God's spirit helping me choose wisely in each decision.
I am so grateful for the wisdom I have access to every day.
Which one is your favorite? Let me know in the comments below!
Blessings,
Ruth Verbree