What? A diet prayer? Why do I need to have a diet prayer? I've never heard of that before!!!
Yes… you DO need a diet prayer and I'm about to tell you why.
God asks us to invite him into our life! Yes – our whole life, not just a little part of it. God sees what we are doing when we are lying down, when we rise up in the morning, when we are driving in our car, when we are watching Netflix, and when we put something into our mouth – food or drink! News flash – chocolate and wine are included in this list!
We think we can do it alone – that we have enough willpower to get through the day. Maybe we think we have enough of what it takes to make it past the next temptation. We think we can, but unfortunately, all too often we quit, we fall down, we give in, we stop. And cry out….
We Can't Do It Alone
Does this sound familiar to you?
If it does, I'm asking you to start this daily habit today. Start to invite God into your journey each morning and start your day off with a diet prayer. It can be simple, but very effective. This means bringing everything into the light! It means surrendering each bite or every sip to God, and it means asking for help. It means you're admitting once and for all that you can't do this journey on your own. In fact, you don't want to do it alone anymore. You're done with that!
We are finally surrendering this aspect of our life to God now too. God asks us to trust Him in everything we do.
Trust in the Lord with all your heart, and do not lean on your own understanding. In all your ways acknowledge him, and he will make straight your paths.

Proverb 3:5-6
This includes our weight loss journey because God asks us to treat our bodies like a temple.
In 1 Corinthians 6:19-20 (ESV), he asks, "Or do you not know that your body is a temple of the Holy Spirit within you, whom you have from God? You are not your own, for you were bought with a price. So glorify God in your body."
So let's surrender and call out to God and He will give us the desires of our hearts.
Plus, you can use these Bible verses to overcome temptation: 30 Temptation Bible Verses (Use These Truths To Overcome Your Temptations!)
Your diet prayer may be as simple as this:
God, I surrender my body and my weight to you. I surrender my actions and my desires to you. Please help me treat my body like a temple and teach me how to do that. Lead me in the path that you want me to take. I give you my choices and I ask that you help me choose wisely with every bite I take.
Remember, the point is that you are inviting God into your journey throughout the day and into every decision you make.
Once you decide to script a diet prayer, then please write it out. I would encourage you to print it off and pray it often, at least once a day. When this gets into your mind, it will change your life.
It's like the little engine that was chugging up the side of the mountain saying – "I think I can, I think I can…..
And with God in the journey, that little engine (You) is suddenly saying.."I knew I could, I knew I could."
You CAN make healthy choices and you CAN lose weight. You CAN memorize a diet prayer that helps you choose wisely. You CAN make healthy choices when you treat your body like a temple.
If you are looking for another beautiful diet prayer to frame, here is one from our Weigh Down Lifestyle Community and I am sharing it with you here.
Prayer for Weight Loss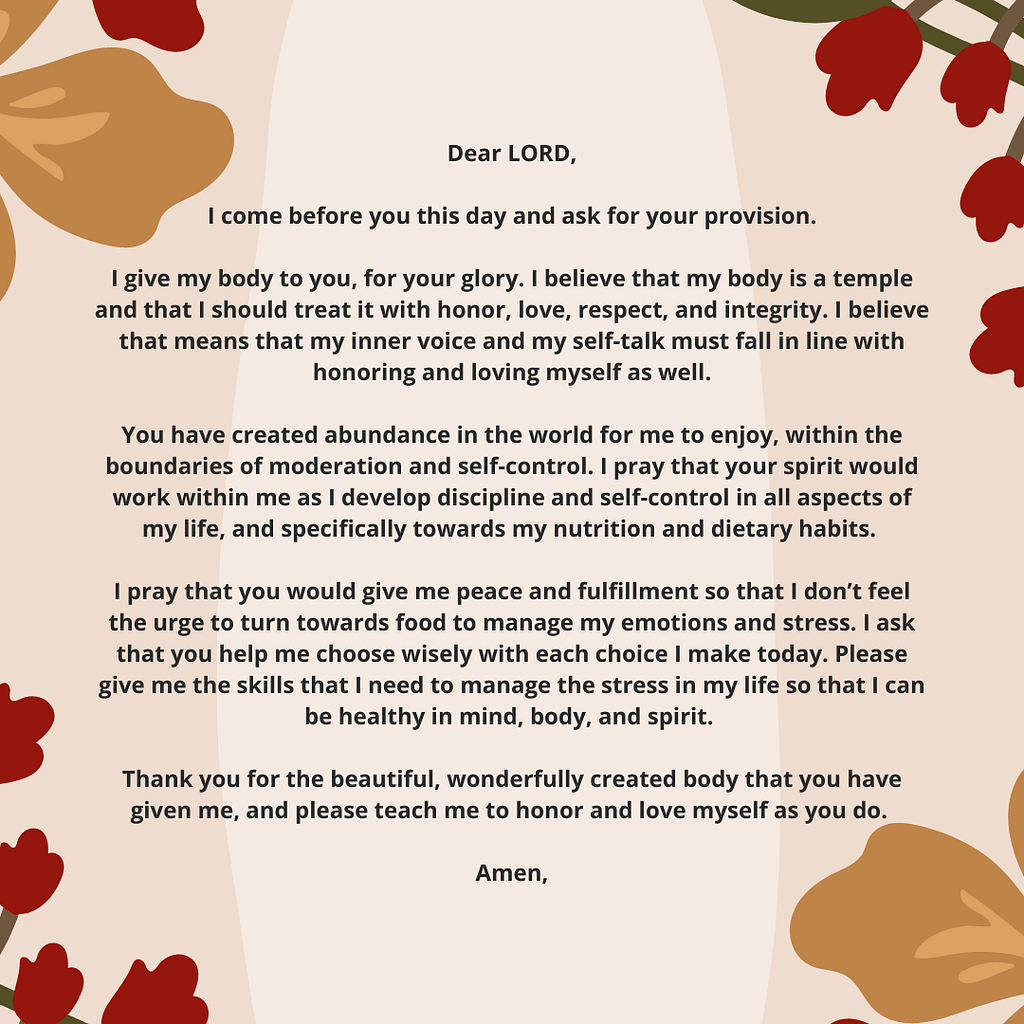 Alternatively, we have another diet prayer on our blog that you can use. Check it out, titled: Prayer For Weight Loss
Have you used a diet prayer before? Why or why not? Let me know in the comments below!
Blessings,
Ruth Verbree