Have you ever tried inviting God into your weight loss journey? Christian weight loss and Christian weight loss programs tend to work because the journey becomes much more holistic. Rather than just eating birdseed and rabbit food, we eat wholesome, healthy foods that God made for us to enjoy. Or instead of working out for hours every day, we choose to move daily, make healthy decisions and be productive.
The key to Christian weight loss programs is that they transform you from the inside out, rather than trying to only change your outward appearance.
That is what happened to me. I gained 85lbs during my first pregnancy. When I came home from the hospital, I actually weighed MORE than when I left. It was emotionally overwhelming. Yet, through perseverance, support, and putting my trust in God, I was able to successfully lose more than 85lbs and keep it off.
You can read my full story about my weight loss journey here: Lose Weight Without Being On A Diet: How I Lost 85lbs
Christian Weight Loss Program
In our Christian weight loss program, the Food Freedom Workshop, it's not really the food or the diet that matters. Rather, it is about changing your relationship with food that counts!
When you focus on your relationship with food, everything starts to change. This is when real transformation happens. Ask yourself these questions:
Are you an emotional eater? What triggers your emotional eating?
Have you tried countless diets, but always seem to fail them? Why do you think you fail?
Have you ever started a diet on monday, "cheated" on tuesday, and then said something like "I'll start again next week"?
Do you have a hard time loving yourself? When was the last time you looked in a mirror and thought "you are beautiful"?
Do you feel guilty or shameful because of your weight?
If you answered "yes" to any of these questions, you are not alone! I dealt with all of these things. (well, really I still struggle with them today, but God has given me true food freedom!)
Maybe it's time to change your thinking. Or maybe it's time to change your relationship with food. But you may be thinking, how is Christian Weight Loss different? Why would a christian weight loss program work when the other ones didn't? Read our post – Christian Weight Loss: How Is It Different?
Bible Verses For Weight Loss
The Word Of God is one of the best places to turn for encouragement for weight loss! Although the Bible doesn't specifically talk about weight loss, it gives a lot of valuable insight and information on how we should treat our bodies. It teaches how God loves us and made us in His Image!
Check out our post: 11 Transformational Bible Verses About Weight Loss
One of my favorite passages of scripture for weight loss is Psalm 139:13-18:
I absolutely love this. God created us and knew us inside of our mothers' wombs. This means that He created you EXACTLY how He intended. You are beautiful!
Prayer For Weight Loss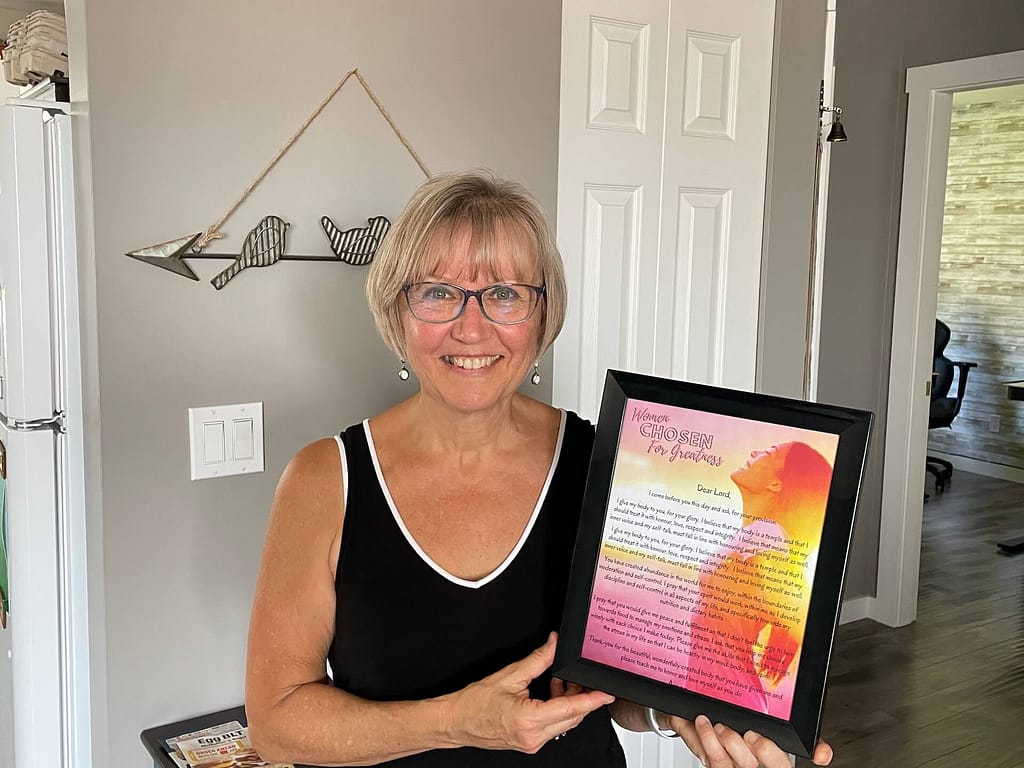 Prayer is a powerful weapon… are you using it to your advantage? When is the last time that
you have used a prayer for weight loss?
God wants to hear everything. I was listening to a sermon not too long ago, and the speaker was talking about our relationship with God. It's not about just dumping all of your problems onto Him and then forgetting about Him for the rest of the day. No! It's about a real relationship.
So, this means that we can bring everything to God. Yes, everything! Even if our thoughts feel incompetent or unworthy, God wants to hear them. Remember that!
We actually have a prayer for weight loss in our Weigh Down Lifestyle Community, and Ruth wrote a post about it. You can check it out here: Prayer For Weight Loss.
Affirmations For Weight Loss
One of the main focuses we have in the Weigh Down Lifestyle is speaking affirmations into your life on a regular basis.
Stats say that we consistently talk to ourselves, whether we know it or not. And, some stats say that we speak 10x more negativity than we speak positivity. That is a lot!
So, in order to fight off all of the bad stuff and the negativity, we need to speak good stuff into our lives as well. That's where affirmations come in.
We have some core affirmations for weight loss in the Weigh Down Lifestyle. You can view them here:
Affirmations For Weight Loss: Speaking Truth Into Your Life Daily
We live by the motto told by Craig Groeschel:
"Write It. Think It. Confess It Until You Believe It!
Yes, as you start using these affirmations for weight loss, you actually start to believe them. Even if you don't believe them at all when you first get started, the key is to get started speaking these truths into your life!
The ABCs Of Weight Loss
Recently in our Weigh Down Lifestyle Community, Ruth shared about the ABCs of Weight Loss. I'm sure you probably have heard about the ABCs of CPR – Airways, Breathing, Circulation. These three things can mean life or death during a first-aid situation. So in the same sense, we created the ABCs of Weight Loss. Awareness, Belief, Consistency.
These can literally mean life and death for our bodies. We need to be aware of of everything we put into our bodies. Not just food, but also thoughts and how you talk to yourself.
Second, we need to have a belief that losing weight is actually possible. If you don't believe that you can lose weight, then you probably won't.
Last, losing weight is all about consistency. It's much better to make small changes that you can be consistent with, rather than be on a perpetual yo-yo diet. You literally make hundreds (if not thousands) of choices every single day. What would happen if you started making just one healthier choice per day? 5 healthier choices per day? I think you would be absolutely shocked at the results in a short period of time.
So, it's time to start implementing the ABCs of Weight Loss into your life. Read our full post here: ABCs Of Weight Loss.
The "I Think I Can's" Of Weight Loss
Most of us know the story of the Little Engine that Could…(and if you don't you should google it – it's a powerful little story) Although he doubted himself, ultimately he believed that he could do hard things…and therefore he did! He accomplished what he set out to do!
Did you know that the "I think I can's" work for weight loss too?
Belief, like I talked about in the ABCs of Weight Loss, is essential a for christian weight loss program. The Bible talks all about belief. We need to take our thoughts captive and make them obedient to Christ (2 Corinthians 10:5).
I wrote an entire blog post about the "I Think I Can's" Of Weight Loss. I break down why we don't believe, what's happening in our subconscious mind, and how to have a "yes I can" attitude. You can read it here:
The "I Think I Can's" Of Weight Loss
Christian Weight Loss Program: Find Freedom From Food
Do you have anyone in your life to support you in your weight loss journey? Losing weight is tough enough already, so you need to make sure that you have a support network.
Ruth and I have an amazing weight loss program called the Food Freedom Workshop. You can register here:
Register For The Food Freedom Workshop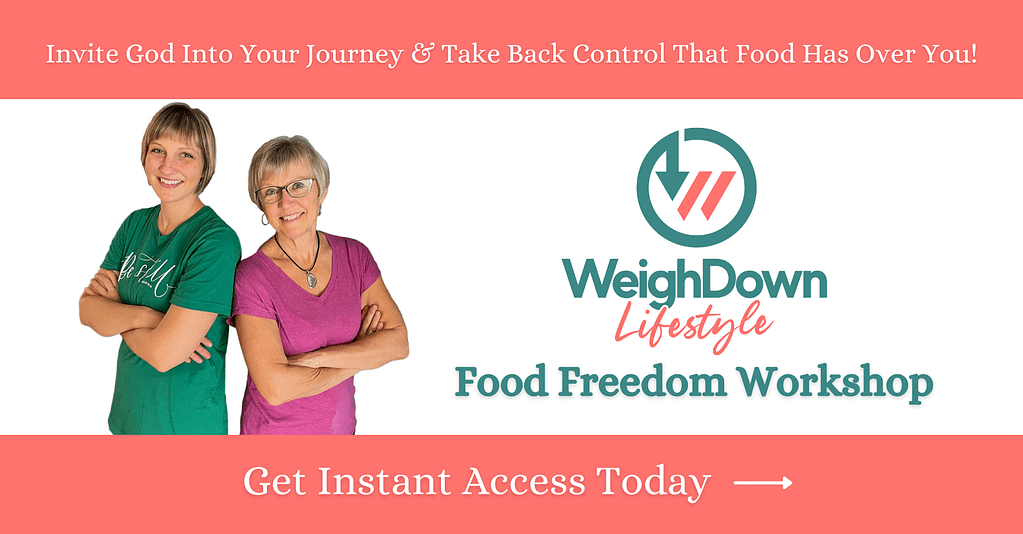 When you register, you will get access to our free Facebook group, where you will get accountability, support, and plenty of encouragement.
Healthy Christian Living is a group of Christian women, all on a similar path of finding freedom with food and inviting God into the weight loss journey. 
We share videos and go live on a regular basis, so you will find a ton of support and information inside of the group. Make sure you register and I know you will be amazed at the transformation you'll have in just 5 days!