Looking for bible verses about weight loss? What does the bible say about weight loss? Although the bible doesn't specifically talk about weight loss, it gives a lot of valuable insight and information on how we should treat our bodies, and how God loves us and made us in His image.
So many of the women in our community come to us having tried all sorts of diets and programs to lose weight. Most of the time, they work for a little while, but then as soon as the dieting stops, the weight comes back on. Usually, they end up weighing more than when they started.
Did you know that the stats say that for every diet you try, you actually end up gaining an average of 5lbs? Isn't that crazy? We need to stop running on the dieting hamster wheel, and the best way to do that is to invite God into your weight loss journey.
The Bible teaches us all sorts of things on how to live a happy, healthy life, so we should take note and listen. You know when dieting becomes hard and gets discouraging? God's word can lift our spirits. When you are feeling disheartened and like nothing will work, turn your eyes upon Jesus and He will give you strength.
Let's take a look at our list of bible verses about weight loss.
Bible Verses About Weight Loss
Genesis 1:27
"So God created mankind in his own image, in the image of God he created them; male and female he created them."
We always tell the women in the Weigh Down Lifestyle Community that "you were created in God's image. You are BEAUTIFUL. You are fearfully and wonderfully made." Sometimes it is easy to forget, but knowing that we are image-bearers of God is an important responsibility to know.
Read our blog: Christian Weight Loss: How Is It Different?
Phillipians 4:6
"Do not be anxious about anything, but in every situation, by prayer and petition, with thanksgiving, present your requests to God."
I love this verse! In every situation… Yes that's right – even with your weight loss concerns – present your requests to God. God's word promises that He will hear and listen to our prayers. Isn't that amazing!
Psalm 139: 13-18
"For you created my inmost being; you knit me together in my mother's womb.
I praise you because I am fearfully and wonderfully made; your works are wonderful, I know that full well.
My frame was not hidden from you when I was made in the secret place, when I was woven together in the depths of the earth.
Your eyes saw my unformed body all the days ordained for me were written in your book before one of them came to be.
How precious to me are your thoughts, God! How vast is the sum of them!
Were I to count them, they would outnumber the grains of sand— when I awake, I am still with you."
Another one of my favorite scriptures. God created us and knew us inside of our mothers' wombs. This means that He created you exactly how he intended. You are BEAUTIFUL.
1 Corinthians 10:31
"So whether you eat or drink, or whatever you do, do everything to the glory of God"
This is one of the verses that speaks most to dieting and weight loss. We are instructed to do everything for the glory of God. This includes eating, exercising, and taking care of our bodies.
1 Corinthians 6:19-20
"Or do you not know that your body is a temple of the Holy Spirit who is in you, whom you have from God, and that you are not your own? For you have been bought with a price: therefore glorify God in your body."
Another scripture written by Paul, which tells us to take care of our bodies. In our community, we often talk about treating your body like a temple, not a trash can. We need to fuel our bodies the right way, rather than just putting junk into them.
1 Corinthians 3:16
"Don't you know that you are God's temple and that God's Spirit lives in you?"
Once again, you are God's image bearer, and you are a temple where the Holy Spirit resides. That gives you the incredible responsibility to treat your body well, which includes your diet and your weight loss journey.
1 Corinthians 10:13
"No temptation has overtaken you except what is common to mankind. And God is faithful; he will not let you be tempted beyond what you can bear. But when you are tempted, he will also provide a way out so that you can endure it."
God is faithful, and when you invite Him into your weight loss journey, He will be there and listen to your prayers. He will not let you be tempted by what you cannot bear. It's really a remarkable promise – you have been gifted the strength to make it through tough situations. And when the temptation is too tough, you will always have a way out!
Read our Prayer For Weight Loss here!
Colossians 3:17
"Everything you say or do should be done in the name of the Lord Jesus, giving thanks to God the Father through him."
Not just some things, but EVERYTHING should be done in the name of the Lord Jesus. This includes your weight loss. In my mind, that means that we need to invite God to all aspects of our weight loss journey!
Romans 12:1-2
"Therefore, I urge you, brothers and sisters, in view of God's mercy, to offer your bodies as a living sacrifice, holy and pleasing to God-this is your true and proper worship. 2Do not conform to the pattern of this world, but be transformed by the renewing of your mind. Then you will be able to test and approve what God's will is-his good, pleasing and perfect will."
In the Weigh Down Lifestyle, we teach a lot about losing weight without dieting, and this is one of the key verses we use. Instead of the fad diets, it's more about transforming the relationship with your food, rather than just changing your diet. Once you learn how to have control over your relationship with food, the weight starts coming off and stays off for good.
If you want to find out more about our Food Freedom Workshop, click here!
Ephesians 6:10
"Finally, receive your power from the Lord and from his mighty strength."
First and foremost, our power comes from Almighty God. Even when we are weak, He is strong. Sometimes, our weight loss journey can be incredibly tough, both physically and mentally and spiritually. Through it all, we need to give God our everything and rely on Him to help get us through these difficult times.
Psalm 32:8
"The LORD says, "I will guide you along the best pathway for your life. I will advise you and watch over you."
Part of inviting God into your weight loss journey is to give Him full control of your life. Once you surrender control, then God can do His best work in you. He will determine the best pathway for your life, and he will guide you through all of the ups and downs and twists and turns!
How To Use Bible Verses For Weight Loss
I'll keep this section quick. If you want these bible verses for weight loss to actually take effect in your life and to matter, then I would highly recommend that you literally use them. Here's what I mean:
Write these scriptures on flashcards or in your journal
Write these scriptures on your bathroom mirror or somewhere where you can see them and recite them every morning and every night
Memorize these scriptures
Say these bible verses out loud
Write in your journal about how these bible verses relate to where you are in your weight loss journey.
Literally, do whatever it takes. Utilize these passages of scripture. Read them out loud and affirm the promises that God has given us.
This is part of renewing your mind like it says in Romans 12. Once we have these positive affirmations and promises from God in our minds, then we can fight off the negative thoughts and emotions that are virtually guaranteed to come.
For example, when you step on the scale in the morning after a great day of eating healthy foods and the scale tells you some bad news. Instead of having it ruin your day, turn to God and His Word, and remind yourself that He is your strength!
Make this a lifestyle. Use these Bible verses every single day in your life and you will start to notice small changes become big!
How To Find Freedom With Food
The biggest part of making a lifestyle change is transforming your relationship with food. It's about firing your diet, because they don't work. It's about learning how to invite God into your weight loss journey, and take back control that food has over you. It means making healthy choices while still loving yourself!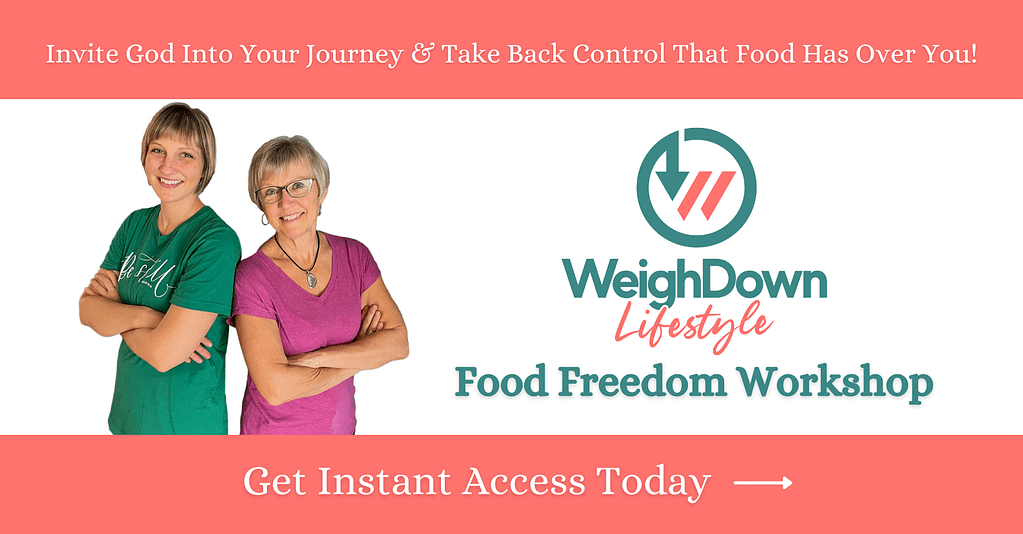 If you want to find out more, check out our Food Freedom Workshop here!
Let me know in the comments below if you have a favorite bible verse about weight loss. What is it? How does it help you transform your life?